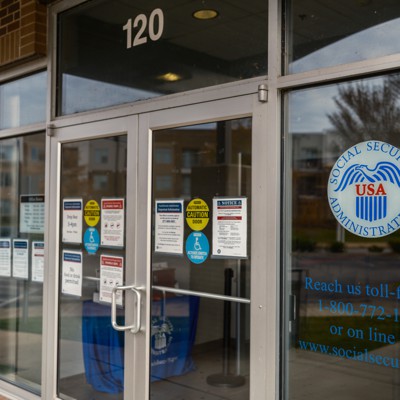 The Social Security Union is asking for $16.5 billion in funding and management collaboration
Union officials, who represent Social Security administration employees, called on Congress on Thursday to allocate $16.5 billion in emergency funding for fiscal 2023 and urged agency management to improve its human resources policies to address a staffing crisis that is causing Administrative backlogs and long queues have resulted in local offices across the country.
At a virtual town hall hosted by progressive advocacy group Social Security Works and the American Federation of Government Employees, officials said that while the number of Social Security recipients increased 21% between 2010 and 2021, the agency has resources to administer those benefits required Down 13% adjusted for inflation. The agency suffers from chronic understaffing, and more are on the way: Last spring, the agency told Congress it expected 4,500 operational staff leave the agency in the 2022 financial year.
"Right now, the agency has 4,000 fewer employees in the field offices and teleservice centers than it did 12 years ago," said Sherry Jackson, second vice president of AFGE Council 220, which represents employees in Social Security field offices and teleservice centers. "Staff are overworked, overworked and underpaid, and thousands more are expected to leave in the current fiscal year. The current workforce of less than 60,000 employees is at a 25-year low."
As part of a rolling resolution to fund the government from October through December 16, Congress approved $100 million in emergency funding for the Social Security Administration to combat attrition. Jackson called that money "an encouraging move" but said its impact will be "negligible."
"$16.5 billion in funding for fiscal 2023 represents an increase of $1.7 billion over the president's budget request of $14.8 billion, but it's the drastic increase that the agency needed to provide the public with the services it deserves," she said. "60% of this additional funding could be used to increase headcount to FY2010 levels, and another 18% to clear backlogs in states' disability testing."
Rich Couture, president of AFGE Council 215, which represents workers in the agency's Office of Hearing Operations, said that in addition to funding, agency management needs to work with the union to improve employee hiring and retention.
"The SSA's Bureau of Labor Administration and Labor Relations has impeded progress in improving working conditions for workers and slowed attrition, which in turn slowed our ability to provide an acceptable level of service to the public," he said. "Since January 2021, the Biden administration has issued multiple executive orders and policies aimed at improving working conditions, modernizing public services, and promoting collaborative industrial relations to achieve these goals. . . Despite these initiatives, we did not see this partnership at SSA agency-wide, rather we saw a continuation of the anti-working class stance maintained by the last government through OLMER."
In a statement, Social Security Administration spokesman Mark Hinkle denied the notion that agency management continued to oppose the Biden administration's labor policies.
"We often work with our workers' unions to meet our bargaining commitments," he said. "Under the Acting Commissioner [Kilolo] Kijakazi's leadership, we were one of the first federal agencies to reach agreements with all our unions to reopen our offices earlier this year, we have 47 medium-term agreements with our unions and we have collective agreements with two of our unions and will renegotiate with begin our third."
But Couture said the agency's labor relations achievements are only "half the story." Although Social Security reached an agreement with AFGE offices reopening in January, it promised to continue negotiations at the component level – one that took place when staff returned to traditional offices last spring mostly unfulfilled.
"In reality, every single major agreement we've reached has only come about after weeks, if not months, of fighting around the negotiating table, complaining to the administration and Congress about OLMER's malicious tactics, and filing complaints and allegations of unfair labor practices come looking for relief," Couture said. "Every time. This is not a working relationship, let alone a partnership. OLMER has rejected our demands for a full renegotiation of our Trump-era union contract, only agreeing to negotiate limited issues and has refused to comment on the intractable telecommuting policy or the to negotiate a broken benefit system that hits minority, disabled and low-paid workers hard."
Couture said the only sub-component of the agency that has successfully developed a cooperative working relationship with her union is the Office of Hearing Operations, which he attributes to the fact that the Office of Labor-Management and Employee Relations was not involved.
"Let me be clear: the acting commissioner has inherited OLMER and I'm not 100% sure that she knows exactly what OLMER is doing," he said. "In any event, OLMER's approach is contrary to the incumbent commissioner's agenda, the President's agenda and Congress' determination in the federal Industrial Relations Act that collective bargaining is necessary for effective and efficient government. These ongoing issues only exacerbate the morale and attrition crisis at SSA."