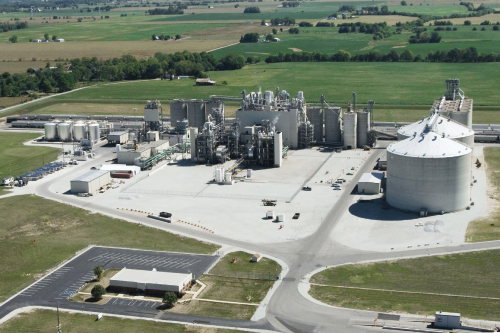 Soybean Processor Bunge Plans $445M Expansion in Shelby County – Indianapolis Business Journal
A St. Louis-based grain and soybean producer plans to spend $445 million to expand its Morristown processing facility.
Bunge North America Inc., an agri-food company, plans to invest $360 million in new machinery, along with an estimated $85 million in construction and building improvements at its 700 N. Range Line Road.
The effort is expected to result in 70 additional jobs by the end of 2025, taking employment at the plant to 177.
With a total capital investment of nearly half a billion dollars, Bunge's expansion would be the largest economic development project in Shelby County since South Dakota-based biofuel maker Poet LLC built a $160 million facility in Shelbyville and created 45 full-time jobs at Brian Asher , executive director of Shelby County Economic Development Corp.
Bunge last month signed an incentive agreement with Indiana Economic Development Corp. signed that would earn the company $1.75 million in tax credits if it meets hiring and investment goals. In August, Morristown City Council agreed to provide real estate and personal property tax breaks to aid expansion.
Bunge North America's parent company, Bunge Limited, is one of the world's largest oilseeds processors with more than 23,000 employees at 300 locations in more than 40 countries.
The existing Bunge facility, which opened in 1995, spans 110 acres and processes 60,000 truckloads of soybeans annually. The plant processes soybeans into animal feed and soybean oil.
Bunge, who acquired the plant from Morristown Grain Co. in 2010, has not commented on the expansion plans, which has caused some frustration among local officials, who say the lack of details has made it difficult to determine if the city would need to expand its sewage treatment plant.
"It would be nice to be involved in the discussions to be able to lead the city, but we don't have that," said Linda Sanders, business development representative for Wessler Engineering, which designed the city's wastewater treatment plant.
During a planning commission meeting earlier this year, a Bunge official said the company plans to process a new type of soy flour that would be used in plant-based meat products, according to Jesse Berling, the city's planning director.
The company recently inquired about the necessary building permits and has submitted preliminary drawings to the city's planning commission, Berling said, adding that the project will not require any additional improvements to the city's wastewater treatment system.
Bunge's recent efforts at its other facilities may shed light on what it has planned for Shelby County.
Earlier this year, the company began offering significant price premiums for Dupont Pioneer Plenish soybeans, which produce high oleic oil that has a longer shelf life and lower trans fats compared to conventional soybean oil, making it more attractive to food processors.
The beans also need to be processed entirely separately from traditional soybeans, which could account for the high price tag of Bunge's expansion plans.
In a written statement, a Bunge spokesman declined to answer specific questions about the project, but emphasized that the company has not yet made a final decision on whether to proceed with the expansion.
"Bunge is considering locations to expand manufacturing capacity as part of our growth strategy," the statement said. "Morristown is one of the locations under consideration and we have had discussions with local governments about tax breaks, utility benefits and other location-specific requirements as part of the decision-making process."