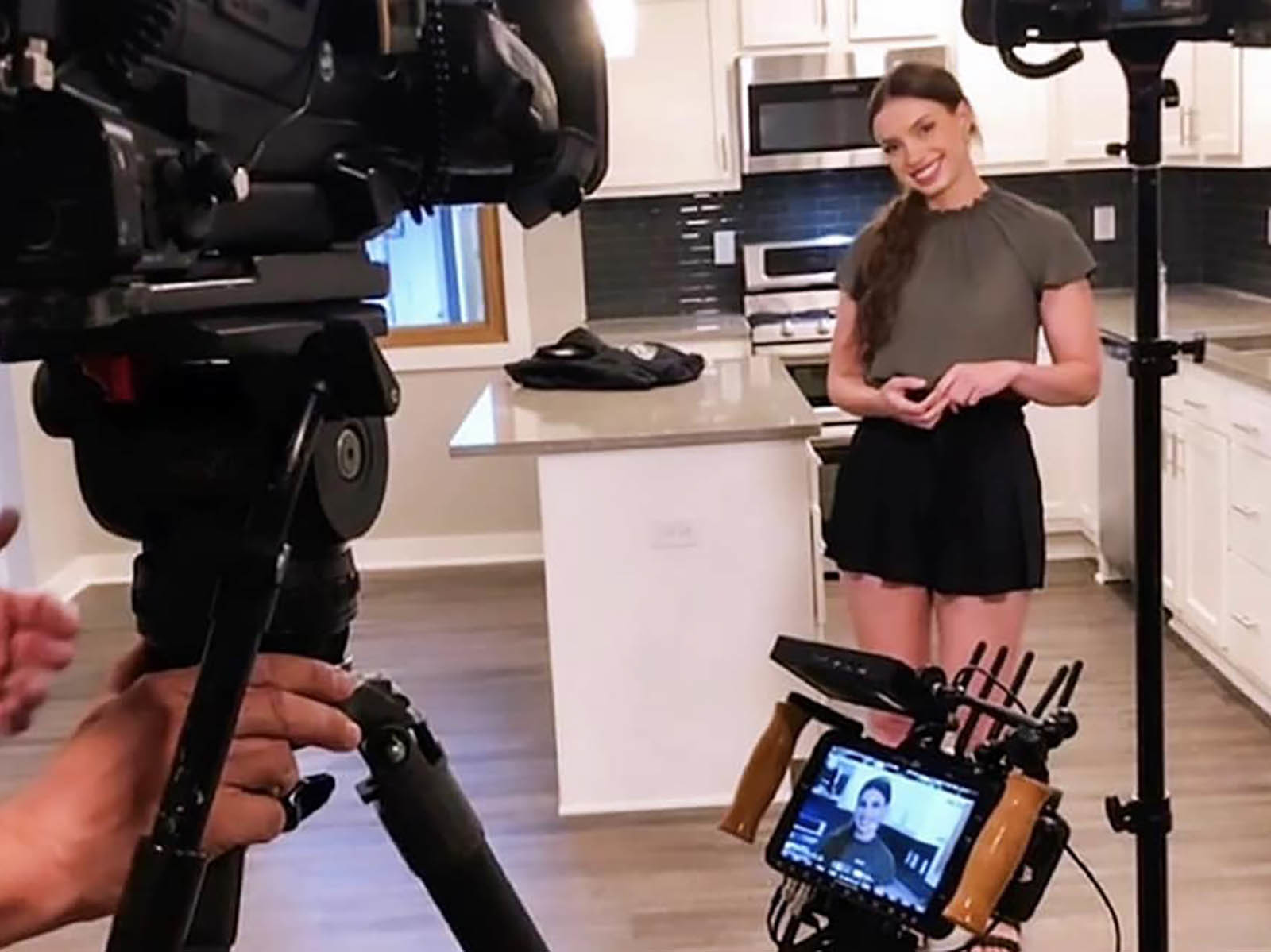 Local agent serves double duty in Milwaukee episode "House Hunters".
"A new real estate professional wants to buy an apartment in Milwaukee that she can make her own. She is looking for a house to accommodate her sister who is moving in and with her current house being under contract she needs to find something fast."
This is how HGTV describes this week's episode 10 of season 223 of its long-running real estate show House Hunters.
This real estate professional is Ana Billings from Team Hoffmann and the sister is her older sister Kerry.
As part of the show, the sisters — Tosa natives who grew up on Milwaukee's West Side — visited three boroughs for the episode, which first aired Friday night and repeated Saturday. They checked one home each in South Milwaukee, West Allis, and Milwaukee's Cooper Park neighborhoods.
"I'm both the broker and the buyer," says Billings of her role on the show. "It's a super unique opportunity and a little different from the typical 'House Hunters' episode style. "I've been privileged to have my sister Kerry join me on hunts and my father Thomas also sometimes lends his expertise!
"(We) hail from the Cooper Park area, were born and raised just blocks from Cooper Park itself from middle school and beyond, and hope to stay in this neighborhood because (we) have the community, the familiarity, and all of that." Feeling of "home" love "there is."
The sisters attended Tosa Public Schools through the 12th grade and their father was an MPS teacher.
"At that point, being an MPS teacher also meant you had to live in the city of Milwaukee, so we ended up in Cooper Park," recalls Billings. "It was close to our schools, close to my mother's work as a dental hygienist, and part of the city of Milwaukee to meet my father's work needs.
"My parents, Pam and Tom, continued to fall in love with our community after my father retired and even downsized into another Cooper Park home after they sold our childhood home."
Billings, who studied interior design, came to the real estate industry through an internship while attending Fox Valley Technical College. She had hoped the experience would hone her skills in staging homes for sale.
"One thing led to another and I ended up falling in love with the actual real estate agent side of the industry more than I ever expected and secured my real estate license 6 months before graduating from college as I felt like I did Career destined for me," she says.
"After graduating, I knew I wanted to be back in Milwaukee, so after speaking to my agent who was supervising my internship, she put me in touch with my current agent, Team Hoffmann Remax Realty Pros. They welcomed me with open arms and launched my career at projectile speed."
Kerry, meanwhile, graduated from UW-Madison and earned her master's degree before taking a position at the Mequon Library.
Billings had been living in Cooper Park when life changed.
"I was able to find a diamond in the rough just outside Cooper Park and with my interior design degree I set to work adding a lounge and bar and renovating as many cosmetics as I could myself," she says. "I got divorced and now I live in a house full of emotions and the market screamed, 'It's time to sell' and make some profit from the sweat capital I'd spent countless hours pouring into the house."
Billings listed her home in 2021 and decided to share a space with her sister. At the same time, her team's owner, Justin Hoffmann, was contacted by HGTV and passed the opportunity on to Billings.
"After countless discussions with the producers, they decided I was a perfect fit for the show and we went to work," says Billings.
And so the sisters began their search, with a camera crew in tow.
"Kerry and I have a lot of different opinions," says Billings. "We are polar opposites that make it a better match. Kerry loves charm, quirkiness, and sometimes puts those things ahead of functionality. I love things that feel clean, are aesthetically pleasing, look for little to no imperfections in terms of home structure, and can't help but add my own touch to everything."
The sisters were considering three properties, including a duplex.
"Given that Kerry was going to rent part of the house from me anyway, we thought, 'What's better than looking at a duplex?' We liked that we had separate rooms, but having only owned single-family homes before, the loss of space was a mental hurdle for me."
Next they looked at a Tudor that would take a little effort to work for Ana and Kerry.
"I'm used to and loving doing (renovations)," says Billings, "but a recreation room would need to be added to give Kerry her full space to herself, and lacked a full-fledged second bathroom, (and) neither of us want to share just the 1.5 bathrooms."
Third, they toured a home that had been completely renovated.
"It was turnkey," says Billings. "(It) gave Kerry and I our own separate floors and bathrooms and had everything on our wish list as far as space was concerned. It lacked some of the charm Kerry was hoping for and didn't leave my creative mind room to do justice to it."
I'm not going to spoil the episode and tell you what they wanted, but for a Westsider like me — who often walks, bikes, and drives through Cooper Park — I was pleased to hear the quiet, low-key neighborhood is maintained in a good way and way national attention.
"I cover all of southeastern Wisconsin and I think there are so many amazing 'pocket neighborhoods' throughout the area," says Billings. "As someone who was born and raised here, I absolutely love having the 'inside knowledge' of these hidden gem communities, including Cooper Park, and love showing them off to homebuyers.
"I hope this episode highlights what an incredible city Milwaukee is. We are such a welcoming community and I hope this show really shows what an amazing place this is supposed to be. I feel truly blessed to have been a part of putting Milwaukee on the HGTV map and can't wait to continue to be a part of welcoming newcomers to Milwaukee home."