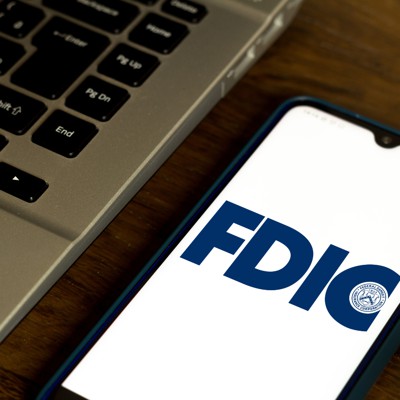 FDIC is already waiving its new telecommuting agreement, Union says
A union representing employees at the Federal Deposit Insurance Corporation said the agency is terminating a telecommuting agreement it signed just months ago by requiring full-time teleworkers to come to newly mandatory "check-in" meetings.
During the pandemic, the National Treasury Employees Union and the FDIC entered negotiations to expand telecommuting, eventually signing a new contract in January. This deal offered employees a choice of three tiers of teleworking: ad-hoc, where employees could work remotely for a day or two as needed; extended telework, where workers can telework for at least five days per bi-weekly wage period; and the work-from-home option, which allows employees to work almost entirely from home, barring days when a manager can call them for a mandatory in-office function.
A fourth option: full remote work was also negotiated, but union officials said that applies primarily to bank auditors, who work primarily in financial institutions rather than agency offices.
Vivian Hwa, president of NTEU Chapter 207, which represents FDIC headquarters staff in the Washington, DC area, said a full 80% of the agency had opted for the work-from-home option earlier this year. But last month, as agency heads prepared to enter the final phase of the return to the office schedule, they changed their tune, emphasizing the importance of face-to-face collaboration and regularly scheduling mandatory face-to-face meetings, which seemingly went against at least the spirit the new teleworking agreement.
"Most of the time you could work from anywhere, in the office or out of the office, it was your choice," Hwa said. "We agreed to that, but now they've decided, 'No, we want you in the office on a regular basis.' They started coming up with business justifications like team building and it got to people basically making up bi-weekly meetings so they came at least once per pay period. It's a backdoor way to get rid of the work from home option."
In response to the dispute, NTEU filed a national complaint against the agency, which is now subject to arbitration. But FDIC officials said they believe requiring employees to attend regularly is "consistent" with the agreement they signed with the union in January.
"We have established a robust and flexible telecommuting program for our workforce, but recognize that the benefits of in-person activities cannot be achieved solely through remote work," the agency said in a statement. "To balance this flexibility, we believe it is appropriate and consistent with the remote working options chosen by our employees to require employees to attend in-person meetings and events at least biweekly to reflect mission, staff and community needs workload to meet."
Hwa said employees are frustrated because the now-mandatory meetings were regular meetings that were successfully held via Zoom during the pandemic and were not mandatory before the pandemic.
"They only make us come into the office when we don't have to and make us pay the price for that commute just to be a warm body in a building for no practical reason," she said. "That's why there's such an uproar and people are so upset."
Hwa stressed that FDIC employees do not mind reporting to agency offices when there is an actual need to do so. They're just upset that management changed course on a benefit it had already begun to offer and implement to workers.
"The big word was 'trust,' it's just a loss of trust," she said. "The FDIC sat down and said, 'Here's what I'm offering you and what we mean by that,' and then they turned and opened it up in a sneaky way. If you just said there's no such thing as the work from home option and everyone has to come in three or once per pay period and we pay for your commute to work on those days, well that's at least something that's negotiable . . . But the fact of the matter is, you talked about it and agreed and then backed out of your own accord – that's why we're upset."