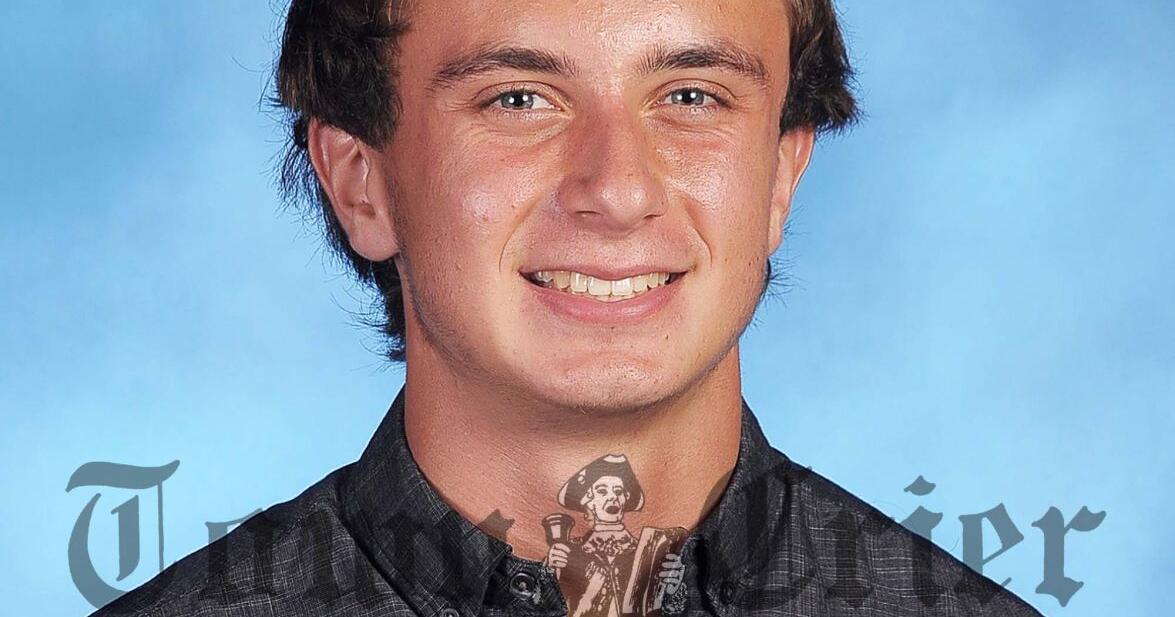 Cranston, Della Piana receive Hats Off Award | news
TEWKSBURY – On Thursday, April 28, 2022, the Tewksbury Rotary Club honored TMHS Class of 2022 members Alek Cranston and Andrew Della Piana for receiving the April 2022 Hat's Off Award.
The Hat's Off Award is a joint initiative of the Tewksbury Rotary Club and Tewksbury Memorial High School to recognize students who have distinguished themselves both academically and civicly in the community.
Alek Cranston, son of Svetlana and James Cranston, was nominated by TMHS faculty members Melanie Ryan and Kennan Daniels for his academic achievements, leadership qualities and friendly, positive personality. His ability to be respected by both teachers and fellow students while being personable and connected to his fellow students is part of what makes him a humble but effective leader.
Academically, Cranston is more than just an outstanding student.
As Valedictorian of the Class of 2022, he ran a full curriculum comprising 10 AP (Advanced Placement) courses, achieving a perfect score on his Mathematics MCAS and the top grade of 5 on his English MCAS.
Cranston received the Rensselaer Medal for Math/Science Achievement, was nominated for and entered the Ashdown Chemistry Competition, and achieved an impressive score of 1530 on his SAT college admissions test.
Within his Tewksbury Memorial High School community, Cranston was an active member of the Math Team, the Russian School of Math, and the National Honor Society.
Outside the halls of TMHS, Cranston has put his leadership skills to good use on the fields of TMHS as captain of the Cross Country Team, Winter Indoor Track Team and Spring Track and Field Team. He has also received Coach's Awards for Cross Country and Indoor Track.
As a first-generation American on his mother's side, Cranston feels strong ties to both his Tewksbury community and his Ukrainian heritage, as he has many relatives who still live in Ukraine.
Locally, Cranston was active in the community as a member and Senior Patrol Leader of Boy Scout Troop 322, earning the highest Scouts rank of Eagle Scout.
Cranston has also volunteered at Strongwater Farms, and despite his busy academic and athletic schedule, he somehow manages to find the time for a part-time job as a host/serving assistant at the Red Heat Tavern.
Andrew Della Piana, son of Jean and Neil Della Piana, was recognized by TMHS Faculty Member Jim Sullivan for his dedication, professionalism and hard work in terms of his broadcasting skills within the TMHS community, as well as his involvement in the town of Tewksbury and the Merrimack Valley nominated community for conference sports broadcasts.
Hard work and dedication are evident in Della Piana's academic career as he maintained a regular position on the Honors List and the Principals List. He is also an active member of the National Honor Society.
Athletically, Della Piana has achieved success in multiple sports at TMHS.
He is a three-year member of the TMHS baseball team, a four-year member of the TMHS golf team, and a four-year member of the TMHS hockey team. He is especially proud and grateful to be a contributing member of the 2022 TMHS Ice Hockey D2 State Championship team.
Della Piana has used his athletic skills as a volunteer assistant coach for the Tewksbury girls' softball league, a fundraiser for the TMHS girls' basketball team, and a member of the peer mentoring program to support core training. His volunteer work also extends to being a camp counselor for the Tewksbury Public Schools summer program and AlphaBest Summer Camp.
Despite all of this success on and off the field, Della Piana really shines when practicing his speaking skills.
Della Piana, recognized as The Voice of Tewksbury High Sports, is the public address announcer for TMHS varsity sports and broadcasts play-by-play for TMHS basketball, soccer, hockey and football. He also broadcasts Play by Play for UMass Lowell Athletics and is a sportswriter for Your Tewksbury Today.
As if this student athlete's schedule wasn't busy enough, Della Piana also works as a USA Hockey official and as an attendant at the Trull Brook Golf Course Pro Shop.
After graduating, Della Piana plans to study broadcasting and digital journalism at Syracuse University with hopes of a career as a play-by-play sports broadcaster on a large network.
Cranston is still deciding which college to attend, but plans to pursue a career in mechanical engineering.
As these two well-deserved Hat's Off Award recipients prepare to retire from TMHS, it is evident that their hard work, determination and talent will bring them continued success in their future careers.